INTRODUCTION
From where Bheki Mdlalose is sitting, 2020 looks a lot like 2000. Hampered by a limping economy, limited growth and lack of investment, South Africa's construction industry is banking on roads and mining – two sectors which have been in decline for more than ten years – for work.
But there is one important distinction between now and then.
This time, Mdlalose's Grinaker-LTA (GLTA) – which was acquired by Laula Consortium from JSE-listed Aveng in the last quarter of 2019 – is perfectly placed to take advantage.
"Just a few years ago Grinaker-LTA had a roads business and a civil engineering concrete business," reflects Mdlalose,
GLTA's Group Managing Director. "The civil engineering unit basically did con- crete work, while the roads division was responsible for civil infrastructure. The two worked together on some big projects like the World Cup stadiums, but gener- ally they were separate businesses.
"The current environment requires
a 360-degree civil engineering business. Now our civil engineering business is a full-suite division which is strong in both disciplines. We can do all civil infrastruc- ture (including roads, earthworks, pipe- lines and earth dams), while we also have specialised concrete abilities to enable us to build bridges, silos and a wide selection of other concrete projects.
"In an environment where economies of scale, experience, speed of execution,
specialist competencies, proven ability to deliver, and transformation credentials are critical, Grinaker-LTA has
never been better placed to cater for the civil engineering needs of South Africa."
Mdlalose says that while GLTA is being right-sized to a R3.5 / R4-billion business – substantially smaller than it was in the early 2000s – its ability to deliver civil engineering projects of all scopes and sizes is unparalleled. Its civil engineering division is, in fact, better placed than at any time in its history to deliver a full suite of civil engineering services.
RETAINING EXPERTISE
GLTA has also retained the excellent talent for which the company and its civil engineering division have long been known. "We may have scaled down in size, but we definitely have not scaled down in terms of experience, expertise and ability to deliver. We have years and years of experience in the civil engineering sector across both civil infrastructure and concrete. Our skilled employees have delivered many roads, reservoirs, pipelines, and almost any kind of civil engineering project that one can think of. In the current environment, and given the flight of skills from South Africa over the last number of years, this is an incredible achievement and one which we are very proud of," says Mdlalose.
"Grinaker-LTA has built some of South Africa's most iconic structures over the last 130 years, and we are still able to deliver iconic buildings and structures, despite our smaller size," he continues.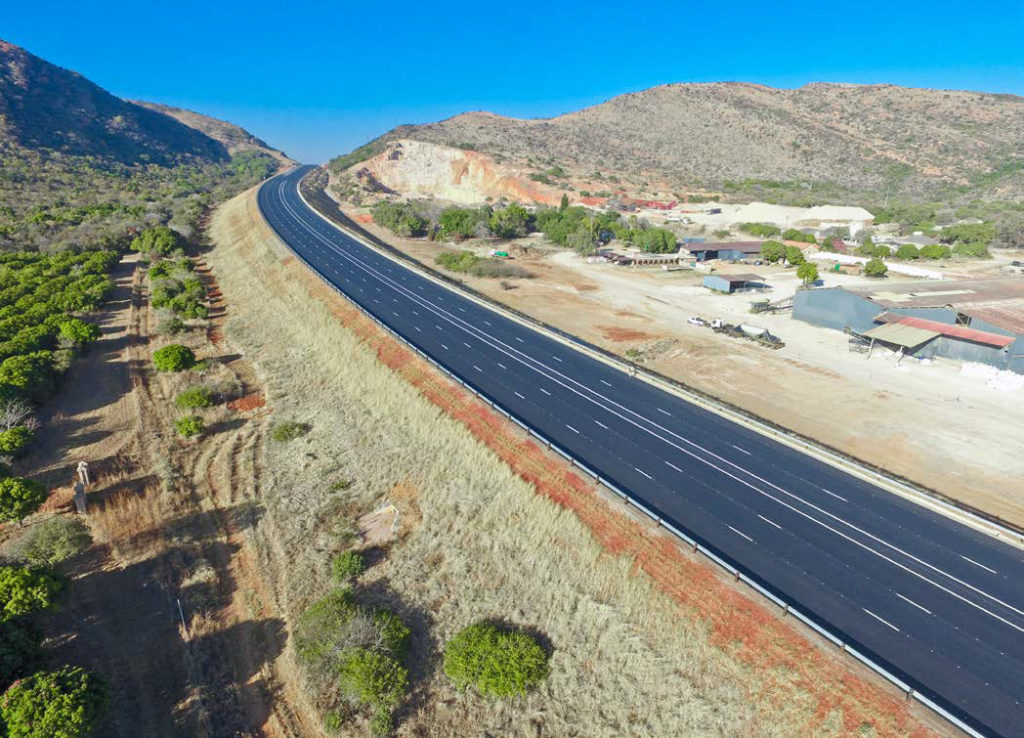 PAMPOENNEK
One such iconic project, which has
just been completed, is the N4/PWV3 Pampoennek extension, the construction of which entailed 5.7 km of National Route 4 Section 12 (PWV3) between Road P123-1 and Road 980 which links the new Hartbeespoort Bridge with the N4.
The project required a deep cut through a koppie while retaining the ground, and the application of an ultra- thin friction course to ensure good surface drainage and noise reduction.
"There are only two or three com- panies in South Africa who are able to deliver an ultra-thin friction course, and Grinaker-LTA is one of those. We used Friction Pave (for which we are a patent holder in South Africa) for the ultra-thin friction course. We are very proud of the road we have constructed for SANRAL (South African National Roads Agency Limited). The end-product is world-class in terms of the technology applied and the building methods used," says Mdlalose.
GLTA expects roads and civil infra- structure to form the bulk of its civil engineering work for the next two to three years as government focuses on infra- structure to stimulate economic growth.
"SANRAL is putting a substantial number of roads projects out to tender. And we also expect that government will likewise put a number of infrastructure maintenance projects out to tender in the next six to twelve months. Given our impeccable credentials and track record, we will clearly be in the mix for these contracts," he says.
TRANSFORMATION CREDENTIALS
One big reason for Mdlalose's bullishness in the face of the current grim reading for the construction sector is Grinaker-LTA's transformation credentials.
"Grinaker-LTA is fully black-owned. We also have a largely black management team. However, our current owner-
ship and management are about more than just chasing the score card. We epitomise the meaningful transformation that government is striving for in the construction industry."
MINING
While government invests in public infrastructure, another mainstay expected to buoy civil engineering in the next
three to five years is mining. "Here,
too, Grinaker-LTA is well-placed," says Mdlalose, "possessing extensive experience in the sector, gained over many years."
In fact, one of GLTA's biggest civil engineering contracts for the last four years has been with mining group Northam Platinum.
"We are now in the tenth addendum of what was originally a ten-month contract with Northam. We are currently constructing a conveyor system at their Lydenburg mine.
"Along with public infrastructure, we believe that mining will provide the bulk of work for our civil engineering division in the short to medium term. And our recent track record is enviable in that sector."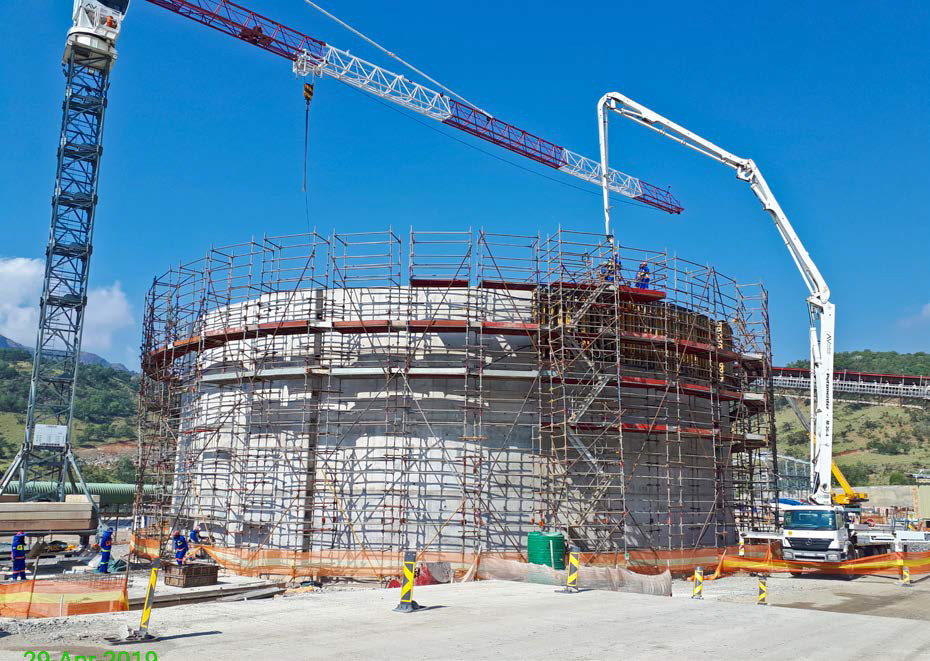 LOOKING AHEAD
It may be 2020, but with the focus on roads and mining, "it does feel like it's back to the future," Mdlalose muses. "They say the best predictor of future behaviour is past behaviour. So, let us look at Grinaker-LTA's past. We have the expe- rience, the manpower and the transforma- tion credentials. We have right-sized the business so that we are leaner and more agile. And we have demonstrated time and time again that we can deliver. Our past is one of excellence and achievement, and that's going to be our future as well."
info
Bhekani "Bheki" Mdlalose Group Managing Director Grinaker-LTA bhekani.mdlalose@grinaker-lta.co.za
Abdool Shaikh Divisional Managing Director ashaikh@grinaker-lta.co.za
Simphiwe Shazi Corporate Development Executive +27 11 923 5000 simphiwe.shazi@grinaker-lta.co.za